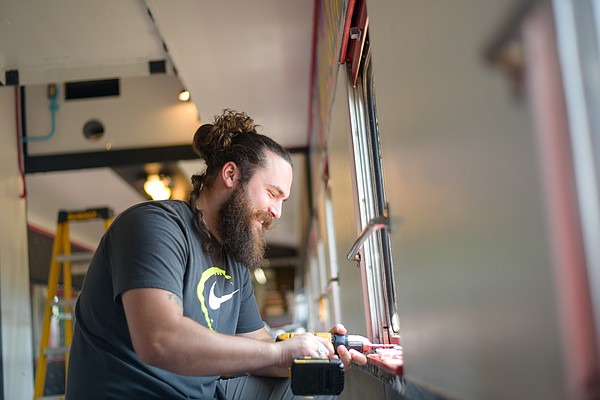 TEXARKANA, Ark. — Michael Perry is opening the Alley Cats cafe. It may be the brainchild of Michael Perry, but it really is a community effort.
Thanks to various contributions and community labor, Perry will soon offer what he said is a unique experience for coffee lovers in downtown Texarkana. He hopes to exemplify the hard work and diligence he can bring to succeed.
Perry's first business venture was opening a "tattered" lemonade stand as a young child, one year old serving the ice-cold drink in glasses that he had to clean between uses.
"That's the most money I've ever made selling lemonade," he said.
Even then he was selling atmosphere, beginning a long series of odd jobs from coaching to selling cars before eventually serving in Verona, where he still works when he can't be found putting on a little blood, sweat, and coffee tears.
After having what Perry described as a "great cup of coffee" for a year, he knew then that this was the path to self-reliance, being his own boss.
"It was just daring," he said, referring to the life-changing cut.
Not believing in very traditional things and wanting to chart his own course, Perry said a cafe is the perfect place to make him happy, where he can be surrounded by other quirky people in the community.
Perry's hard work doesn't stop at coffee and service at Verona. He and his wife Summer recently renovated their 1940s home.
He is a jack-of-all-trades and likes to touch a bit of everything.
"That's probably another thing that contributed to the coffee," he said. "I spent years and years doing a lot of hard work."
Perry was part of a coaching team when he was 13 and was paid under the table in cash.
"I was also a lumberjack, worked as a residential tree worker, plumber, remodeler and dabbled in a ton of backbreaking stuff. If you do that until you're 13, you get beat up and realize I don't want to spend the rest of my life doing stuff like that."
Perry's partner, Paul West, is a painting contractor who oversees cabinetry at Alley Cats.
"It's kind of everyone. It's not me, me, me," Perry said. "I create a space that is for me that gives me stability and happiness, but it's a place for the community, so they should have a bit of a say. I tried to ask as many people as possible. "
Almost everything Perry has done has been done with input from a collective of people in the community.
"I'm very indecisive. You never want to go shopping with me," he laughed.
In addition to West's help, Perry also enlisted artist Jenny Stephens, Check Mark Designs signage wide, and Michael Stewart for custom audio.
"That's a lot of help from a lot of people."
The result is an elegant but original place.
"I'm a lot of fun and just want this place to be a lot of fun for the community."
(Alley Cats Coffee Shop is at 305 E. Front St., the former Flying Crow. Opening has yet to be determined.)


Michael Perry works on renovating the Flying Crow train car at his cafe, Alley Cats. (Photo by Erin DeBlanc)