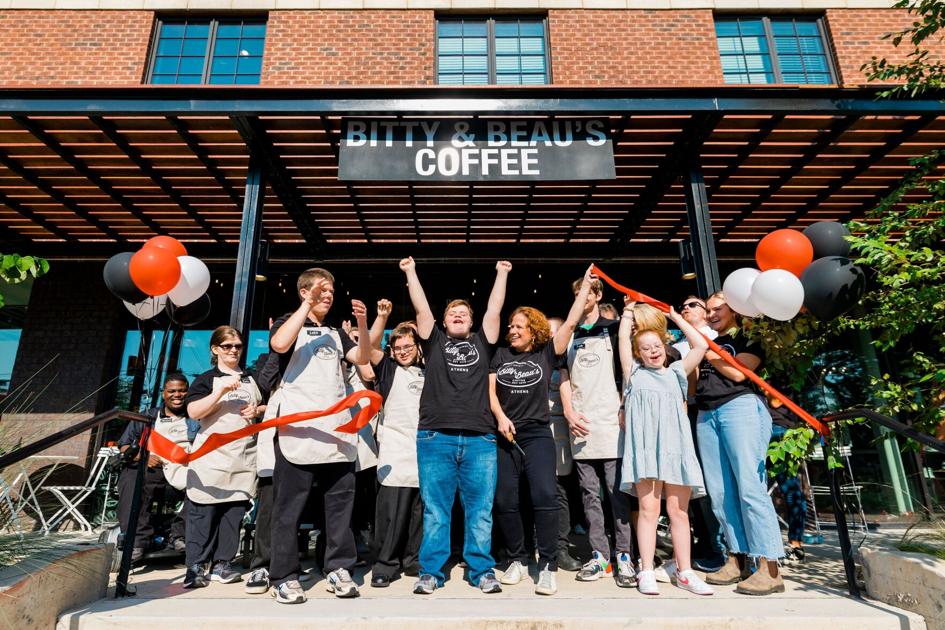 AuburnBank this week unveiled the first tenant of its new building as Bitty & Beau's Coffee, a North Carolina-based company that provides jobs for people with disabilities.
Owners Ben and Amy Wright founded the business in 2016 in Wilmington, North Carolina, named after their two youngest children, Bitty, 12, and Beau, 17, both with Down syndrome.
Both parents started the company to tackle the high 80% unemployment rate among people with disabilities, said Amy Wright.
"We wanted to create a place for our children and other people with disabilities to work someday," Wright said. "As we open the store here in Wilmington, we realize that this is a problem that exists in every community. The statistic is truly staggering and unacceptable, as far as we are concerned.
"Our stores are run by people with disabilities, from the cashier to the person who prepares the drinks to the person who dispenses the drinks. And all the hope is that when people walk into our cafes, they maybe don't. never spent time with someone with a disability before and they are starting to see them differently and see their potential and see their value. And I hope the ripple effect is that the customers who come into our stores will then go back to their workplace and hire someone with a disability, and that's when we can really affect that 80 percent unemployment rate. "
The reaction to the opening of the first Bitty and Beau's Coffee created real momentum for the brand and its concept. In the past six years, the company has opened six company-owned stores and sold 17 franchises, three of which opened and two more in the next two weeks, Wright said.
The positive response to the company and its mission has grown, she added, saying it shows that the world is starting to welcome people with disabilities and see them differently.
"Most of the time you can feel like you're swimming upstream all the time… trying to get your kids to be accepted, included and valued by the world," said Wright, who also has an older child with autism. "It certainly exceeded all the expectations we had when we opened our first store. It has been extremely rewarding, and we really feel like we are just getting started. There is a movement going on in our country. right now, and I think it comes in the form of a cup of coffee. "
Bitty & Beau's Coffee, which will offer a wide range of coffee products, smoothies, frapees and baked goods, is the first tenant announced for AuburnBank's new downtown location, which is currently under construction and is expected to open in early 2022.
"We just wanted to be in the thick of what's going on over there in Auburn and college life," said Wright, who added that they had found a franchisee for the Auburn store. "And people travel all over the country to come and see our stores. We put a map of the world inside each store because people can locate where they're from. It's really cool to see the distance people will travel to come and see each store.
"We look forward to joining your community and look forward to opening our doors."