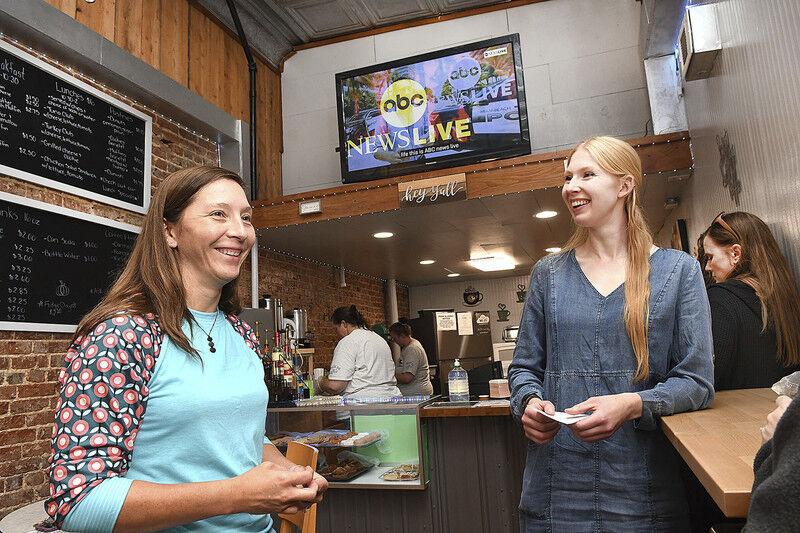 [ad_1]
It was in grade 11 that Tabbitha Mains realized she wanted to open her own business.
Specifically, she wanted to open her own cafe.
Now more than two decades later, the 43-year-old Beckley native made her dream come true with the opening of Coffee on Main.
Mains said the community embraced the cafe, which opened at 206 Main Street across from the Raleigh County Courthouse less than two weeks ago.
"It's everything I expected and more," she said.
She said the shop is even more special because it's something that her son Jackson, who is autistic, can also help out with.
"It's mostly for him," she said, fighting back tears. "Whether I make the money or not, it's up to him to do it. … He can't go into the realm of work, but it gave him something to do.
Mains said her son, who recently graduated from high school, is the host of the store.
"He greets everyone who walks through that door," she said. "He also has such an incredible memory. If you tell him your name, he'll remember it the next time you walk in.
Mains, who also owns her own cleaning business, said she knew it was time to pursue her long-held dream of opening her own cafe when she saw an article listing the place to rent on Facebook .
"The post even said it would make great coffee," she said.
After discussing it with her husband and taking a tour of space, Mains said she felt it was meant to be.
It began renovations to the space in August and planned to be finished in a few weeks, but encountered some flooring issues that delayed its official opening date.
Although it was previously a barber shop and before that a shoe store, the cafe exudes the classic aesthetic of a cafe.
Gray walls and overhead lighting make the space welcoming and cozy, but it's probably the exposed brick running through one wall that really gives off the cafe vibe, Main said.
"I want a place where everyone feels comfortable," she said. "I wanted people to feel like they can just come in and be okay. Whether it is to come in and sit and enjoy the calm or to make it leave. I want everyone to feel welcome here.
People seemed to be doing just that because on Monday, just before lunchtime, Mains was in a bit of a rush by locals looking to grab a quick bite before heading back to work or school.
Kaitlyn Sizemore, a biology student at West Virginia University Institute of Technology, said she stopped for a sandwich and tea before heading to college for class.
"I normally have a few hours between classes and I usually get fast food, but I was trying to find a different place and saw this place," she said.
Melanie Seiler and India Krawczyk were also present as Sizemore placed his order. Both work at Active Southern WV, which is within walking distance of the cafe.
"It's a nice and convenient place to stop," said Seiler. "We also like to support a local business.
Mains said the location was definitely a selling point when she decided to open her business.
"It's located in the middle of so much," she said.
The majority of Coffee on Main's menu items are what you would expect from a cafe, from pastries like cookies, muffins and danishes to coffee items including hot, iced and cold coffees as well as tea.
There are even flavors of vanilla, hazelnut, caramel and mocha in addition to the season's favorite pumpkin.
Mains said she was working on her latte skills and added chai latte to the menu at the request of a niece.
Breakfast and lunch options are also available. Currently, the customer's favorite for lunch is a traditional chicken salad sandwich, Mains said.
However, for breakfast, Mains said they have an item that most people have probably never heard of.
Fluff n 'Nutter is served on a sliced ​​and toasted English muffin with a peanut butter and marshmallow spread in the middle.
It might seem a little weird at first, so Mains said she recommends people try it out before passing judgment.
"My husband is from Massachusetts and (Fluff n 'Nutters) is a huge thing in Boston," she said. "When you add the peanut butter and marshmallow to the hot toasted English muffin, it all goes well together and it tastes so good."
She added that when she thought about the cafe menu, it was one of the first things that came to her mind because she wanted to offer something that people couldn't get anywhere else.
"I wanted something unique," ​​she said.
Coffee on Main is open 7 a.m. to 2 p.m. Monday through Friday and 8 a.m. to 2 p.m. Saturday. Mains said they were closed on Sundays so she could have time to reset and spend with her family.
A full menu is available on the Coffee on Main Facebook page, where customers can also place a take-out order.
Takeout orders can also be called for pickup at 304-923-8613.
Locally made Coffee on Main shirts can be purchased at the boutique and a portion of the proceeds will be donated to the Autism Resource Center.
[ad_2]