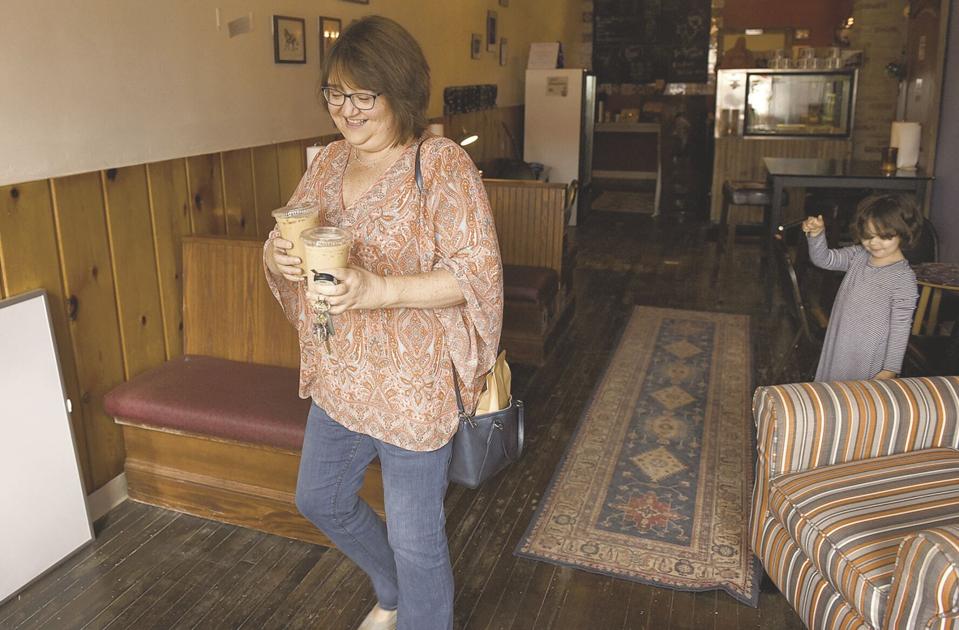 Before opening the new Studio 12 in 12 Points cafe and art gallery with his wife Lucy Chew in mid-September, Eric Handlin discovered his culinary prowess during the pandemic.
Eric's Humble Pies took orders and delivered his homemade products to neighborhood customers; the company now has a house in Studio 12.
The addition of the gallery to the mix ties in perfectly with his background as an Abstract Expressionist with an art degree from Indiana State University, where Chew teaches English.
Since opening the store on the weekend of Sept. 11-12, business has been "fairly stable," Chew said.
"It's all new to us. We're just trying to look for patterns – when people are coming and how many people are coming and on what days. They didn't quite see the patterns established after three weeks, but "we don't see right now that we get a lot of morning traffic on weekends," she said.
"There is no queue at the gate, but it's pretty stable. We were satisfied.
This weekend, Studio 12 will be offering a few additions to try to attract more morning customers – a quiche and a baked oatmeal. Currently, Studio 12 is open from 4 p.m. to 8 p.m. Wednesday to Friday and 9 a.m. to 3 p.m. Saturday and Sunday.
The space was once a beauty salon and an adjacent barbershop owned by a husband and wife team. The café will occupy the hairdressing salon, while the barber will eventually house the gallery, still under renovation. Wall space in the cafe is also available for local artists who wish to display and sell their products.
Chew and Handlin approached friends to be the first two artists to be featured. Watercolors by Robin Voll – also an English professor at ISU – and equine portraits by Jeanne Rewa adorn the walls of the café. Three works have already been sold.
Voll admitted that she was "quite nervous" about hanging her work in a public space.
"It's exciting to see my work develop – the last time I exhibited art I was probably in college," Voll said with a laugh. She thinks Studio 12 represents something "that Terre Haute lacks – a quirky and artistic place. I am excited for them.
Chew and Handlin will eventually ask the artists to use the walls of their gallery. They're still tinkering with the pricing structure, but won't take any commission – whatever artists earn from sales will be theirs. Handlin's own work will eventually end up on the walls of Studio 12.
As a child, Handlin's grandmother's best friend looked after him and baked pies for the holidays. "I didn't know when I was little that I was learning, that I was taking that back," he said. He started baking pies for his family and friends while COVID-19 was raging, and "someone said, 'You should go into business,' and here we are."
Handlin creates his pies, wherever possible, with local ingredients, such as blackberries from Fresh on Cypress and strawberries from Ditzler Orchard in Rosedale. He also invites local musicians (he plays guitar) for unofficial jam sessions on Tuesday evenings.
Like many who have opened businesses in the 12 Points region, Handlin and Chew see it as a thriving arts district. Chew said she wanted Studio 12 to become "a space where people can come in and talk about their work, show off their work and share ideas and really spread out from our doors in the region."