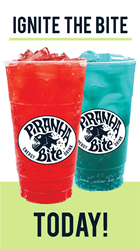 "Stop into our Clintonville or Tallmadge stores today to join the summer frenzy and enjoy a new Piranha Bite energy drink for just $1. Today only, every Piranha Bite customer will also get $1 off to come back later for a second bite. – Founder and President of the Crimson Cup, Greg Ubert

COLUMBUS, Ohio (PRWEB)
June 29, 2022
It's time to Ignite the Bite at Crimson Cup Coffees in Clintonville and Tallmadge, Ohio! On Wednesday, June 29, customers can enjoy a delicious new Strawberry or Blue Raspberry Piranha Bite energy drink for just $1.
Developed by the Crimson Cup Innovation Team, Piranha Bite Energy Drinks offer a new way to cool down and prepare for summer activities.
"Stop into our Clintonville or Tallmadge stores today to join the summer frenzy and enjoy a new Piranha Bite energy drink for just $1," said Founder and President Greg Ubert. "Today only, every Piranha Bite customer will also receive $1 off to come back later for a second bite."
To create each custom Piranha Bite drink, Crimson Cup baristas mix energy drink shots with flavored syrups and ice.
"This new icy flavor sensation is almost guaranteed to spice up your step," Ubert said. "It's a delicious new way to help you manage your busy summer schedule."
At launch, Piranha Bite energy drinks are available at Crimson Cup Clintonville location, 4541 North High Street in Columbus, and at its tall madge cafe, 116 Tallmadge Circle in Tallmadge, Ohio. Starting June 30, 16-ounce drinks will sell for $5.
Ubert said the launch of Piranha Bite was just the start of the energy drink momentum from the award-winning roaster. "We will be rolling out new flavors and new locations. Stay tuned!"
About Crimson Cup Coffee & Tea
Founded in 1991, Crimson Cup is at the forefront of the coffee industry. Its mindful roasting, startup support, and global partnerships are consciously designed for the greater good of communities around the world. Among other national accolades, the company won the 2020 and 2017 Good Food Awards, the 2019 Golden Bean Champion for Small Roastery Franchises/Chains, and Roast Magazine's 2016 Macro Roaster of the Year.
Crimson Cup travels the world in search of the perfect cup, driven by meaningful relationships, honesty and a shared vision for the future. His Friend2Farmer initiatives promote respect and decency through mutually beneficial collaboration between local and global communities.
Through its 7-step coffee startup program to success, the company teaches entrepreneurs how to open and manage independent cafes in their local communities. By developing a cafe business planentrepreneurs discover how much does it cost to open a cafe.
Crimson Cup coffee is available at more than 350 independent coffee shops, grocers, colleges and universities, restaurants and eating establishments in 30 states, Guam and Bangladesh. The company also has several Crimson Cup Coffees and a new one CRIMSON retail flagship store. To learn more, visit crimsoncup.com, or follow the company on Facebook and instagram.
Share the article on social networks or by e-mail: