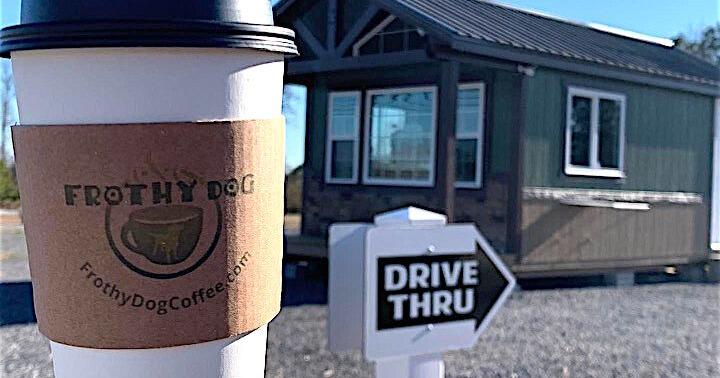 Phillip and Charlotte Dooley are the owners of Frothy Dog Coffee Company. Their first cafe opened in Geraldine in the summer of 2018 and this week they opened a second location in Rainsville. The name is apt since Geraldine is home to the Bulldogs, however, there are several reasons the Dooleys chose the name for their business. "It's a catchy name that comes to mind," Phillip said. "Plus, we're all into water sports and the sparkling dog is a surfing term."
While the Geraldine Boutique offers both indoor seating and drive-thru, the Rainsville location is strictly a drive-thru at this time. Plans are in place to add outdoor seating, possibly as early as the spring. Phillip said he wanted to extend the foredeck and add shade sails for customers who want to hang out. "We're doing a smooth opening right now," Charlotte said. "We hope to eventually have a grand opening, but right now we are learning what interests customers in this area and our hours and menu will reflect this more and more in the coming months." The Dooleys said they are looking to hire more help and encourage high school and college students to apply.
The menu offers Espresso, Frappe, Smoothies, Red Bull flavored frozen drinks, various teas and hot chocolate. Kids' menu options consist of cans of juice, root beer, cream soda, and milk. Coffee flavors include flavored latte, white or black mocha, caramel macchiato, bourbon butter pecans and more. The Red Bull Infused Beverage List features over a dozen recipes with fruity flavors. Chai tea and loose tea offerings are also on the menu. Personalized drinks are suggested for those who like to get creative.
A breakfast menu of southern and continental dishes is offered. Frothy Dog Coffee Co. sells some of its own breakfast creations as well as Main Street Deli items in Fyffe. The store accepts all major credit cards and uses Apple Pay and Odeko App orders.
The business is veteran-owned and the Dooleys are hoping to have future fundraisers for charities close to their hearts, including Second Chance Animal Shelters and Motorcycle Rides in Honor of Veterans. disabled.
The custom built 'little house' is located on Alabama Highway 35, next to 50 Taters. The physical address is 812 Alabama Hwy 35. The current hours are Monday 6 am to 6 pm, Tuesday to Friday 6 am to 7 pm, and Saturday 8 am to 6 pm. For more information, call the Geraldine agency at 256-659-2219.