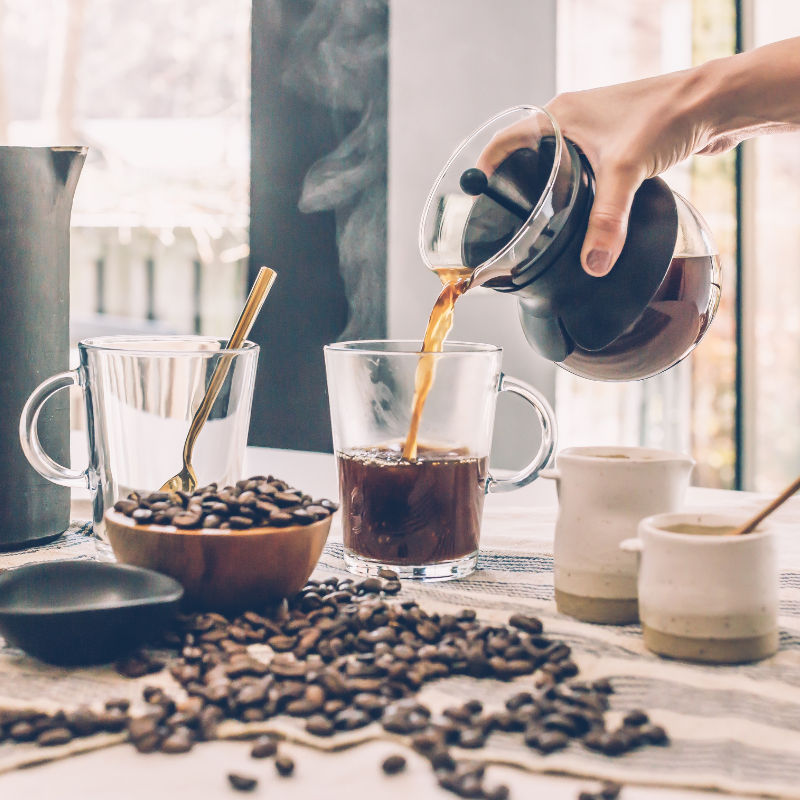 Manuel Barsallo is not here for a bland cup of coffee. As a partner of the Panama Coffee Club, founder of Coffeetologist Coffee Company, and co-founder of Cruce Coffee Company, Barsallo really knows his beans. He also happens to be a globetrotting photographer, which means he too went through the horrors of downing a cup of hard coffee in a hotel room just to start the day. But wait, because Barsallo says there's a better way to live.
Yes, he says, you can indeed turn coffee from a hotel room into something tasty. No, these tips won't turn your off-brand pitch into coffee shop magic, but they will at least make mornings a little brighter. Read on for Barsallo's tips for making hotel room coffee better, even worse.
Try adding an unexpected ingredient
One of Barsallo's favorite ways to blend hotel room coffee is to add a splash of an unexpected ingredient: orange juice.
"My favorite is to mix it with cold orange juice and tonic water to make a signature drink. Always get the caffeine minus the horrible flavor," he shares with Food & Wine as a way to add some punchy flavor. Alternatively, Barsallo says, he'll mix in other fruit extracts he has on hand. Check the mini fridge to see what juices your hotel may have on hand to mix in some flavor.
Add a pinch of salt
If there's no juice, Barsallo suggests sprinkling a little salt in the ground before mashing, which he says "generally works for darker roasts" to help reduce acidity. But don't expect this proven hack to be a silver bullet.
Of course, you can always add "good old brown sugar or simple syrup" to the final product. If the hotel has an attached restaurant or bar, they probably have both, so you can call reception and ask.
Use bottled water – and less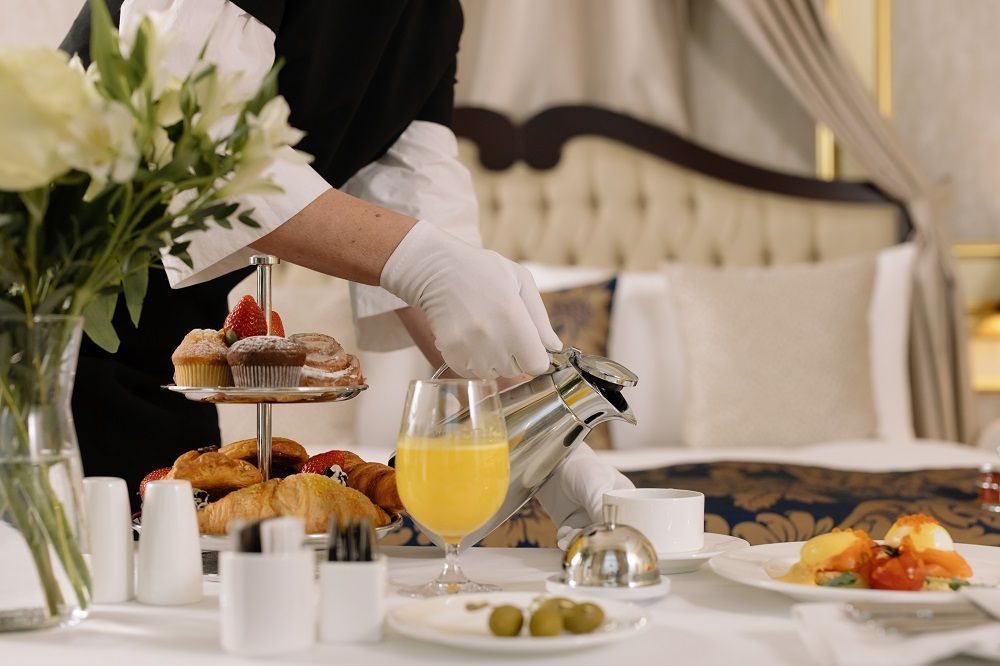 Bottled water is a powerful ally when making coffee in a hotel room.
"I definitely recommend using bottled water," Barsallo shares. "In general, tap water, depending on the destination, may contain excess calcium or chloride. I recommend finding bottled water with a higher magnesium content and a lower calcium and chloride content. sulfate Magnesium improves the mouthfeel, texture and overall sweetness of coffee.
Speaking of water, he also suggests reducing the water to grounds ratio to enhance the boldness of flavors.
"After roasting, there's not much you can do, but you can try making hotel room coffee with a shorter ratio to have a balanced mouthfeel and a nicer aftertaste," says -he.
Bring extra gear
If all else fails, or you're a purist when it comes to your caffeine intake, Barsallo says you might want to create a "to-go" kit for your coffee needs while traveling.
"Bringing your coffee gear is one of the best options if you're not sure what kind of coffee experience you're going to have at your destination," he says. "I typically travel with a Carter mug that keeps my water hot for sixteen hours, an Aeropress, an Acaia scale, and my Comandante grinder."
Barsallo also suggests looking at more convenient options like drip kits, specialty coffee pods that work with most instant coffee makers, and, he shares, "there's a pretty interesting move on the ultra specialty coffee solubles", aka instant coffee.
"Depending on the destination, sometimes it's difficult to take my gear with me," says Barsallo, adding that while it's a bit more to pack, it works wonders in the morning. "I have to say it was life changing."
This story first appeared on www.foodandwine.com
(Main and featured image credit: Burst/Pexels)
© 2021. TI Inc. Affluent Media Group. All rights reserved. Licensed by FoodandWine.com and published with permission by Affluent Media Group. Reproduction in any manner in any language, in whole or in part, without prior written permission is prohibited.
Food & Wine and the Food & Wine logo are trademarks of Affluent Media Group. Used under license.