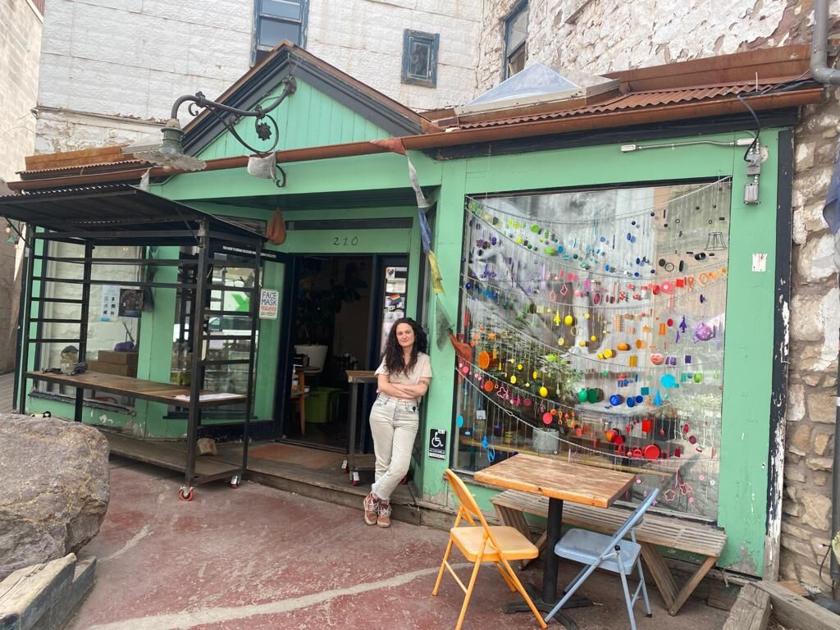 [ad_1]
For the past five and a half years, the little triangular patio on Main Street and the little cafe tucked away behind has offered much more than a menu. Any day it was a place to work, have a relaxed business meeting, or read a few pages of a good book. It was also a small grocery store: three-for-five avocados, organic bulk snacks, jars of crunchy chili. Perhaps more than anything, it was an invitation to human connection. Framed by a mural framed again by the mountains, friends hugged, chatted and sometimes cried. Strangers from all over the world connected. As toasts filled with nifty toppings and slats circulated, life unfolded.
At 6 p.m. on Saturday, Ghost Town will close its doors to the public for good, bringing the number of local restaurants closing that day to two, as Taco del Gnar previously announced it was closing on the same day. For owner Elena Levin, the decision to shut down the beloved local café was sad, but also present was a sense of relief.
The task of keeping the cafe in business as the housing shortage reached acute levels and fueled the widespread struggle to hire and retain employees had simply become overwhelming. School-aged employees have returned to school. Other workers gave their notice, eventually overwhelmed by the daily tsunami of customers who became increasingly hostile and difficult throughout the pandemic, she said.
"It was just too much," Levin said of the daily attack on herself and the employees.
While dealing with the situation with a friend, she said, her friend compared him to the Greek legend of Sisyphus, the mythical king condemned to endlessly rolling a huge boulder up a mountain, slipping and falling with every attempt. .
"There is a feeling of relief, along with the sadness and melancholy, that I don't have to hold on anymore," she said.
Running a business has never been easy, but the bond of influences that peaked this summer made the situation "radically different" for Levin. While the affordable housing shortage has intensified for years, the beginning of the end has begun, for Ghost Town, with the pandemic. Domestic tourism to outdoor destinations has exploded, pushing small local restaurants like Ghost Town to capacity and beyond. The pandemic has disrupted the supply chain, making it an ongoing battle to source key items. As the urban, white-collar workforce of the United States moved away, many escaped city life and moved to idyllic small towns. Real estate has skyrocketed, pushing up rents and house prices.
Right now, that tale might sound familiar, but the result for Ghost Town was: queues of potential coffee seekers pouring out onto the sidewalk every day, 45-minute wait times for an order of avocado toast, the relentless chaos of workers pouring out coffee drinks with barely a chance to get a sip of water, let alone cultivating the kind of meaningful interactions previously common with customers. More and more customers got angry at the long waits, angry that they were asked to wear a mask. Tips have plummeted, as has worker morale.
"In this job, I mostly felt equipped to handle any issues that arose," said Levin, referring to her five years in what she called her "dream job."
"But it got to a point where doing my best just wasn't enough. It wasn't even a choice at one point, it was just a reality I had to struggle with.
August 28 is the closing day, she said, because it was the last day she could staff the cafe with enough people to keep it running.
"We don't have the manpower to run the city at this capacity," she said.
The factors that led to the closure, she stressed, did not include lack of community support or even financial hardship. Although Levin noticed that expenses increased in proportion to the increase in business, the cafe excelled both as a business and as a community center.
For manager Brandi Seeley, who started working in Ghost Town as a barista four years ago, the cafe was the place that weaved her into the fabric of the city and made the community come together. feels at home. It was a place people could hang out, a job where she could make toast for customers and then chat with them while they ate it. It all now looks like a distant dream.
Since the pandemic, she said, "I have never seen people be more rude, to the point of being verbally abusive. You ask people to wear a mask, they lose it. Previously, my interactions with customers were largely positive. Now a lot more people are impatient, demanding, or grossly rude and don't tip.
Seeley found that she regularly felt angrier at work, where she was once happy.
"The constant demand has become too strong," she said. "I am not an angry person. It wasn't fun anymore.
Seeley and his partner have returned to work the summer season at Telluride for the past few years. Next year, she said, she thinks they just won't come back.
For longtime client Stephen Burns, who helped implement the early coffee espresso program under Meghann McCormick's foundation, seeing Ghost Town shut down sounds like a death knell.
"This is the community lounge," he said of Ghost Town. "This is the place where you can go and sit and meet your friends, the county commissioner, the guy who shovels the snow that day. It's such an inclusive place. You would go to Ghost Town, carrying a book to read, but knowing that you weren't going to read any pages because you would end up talking with your friends. That was the beauty of this place.
Losing Ghost Town, he added, is heartbreaking. He and his fiancee also plan to move out of Telluride, the place they have collectively lived in for 10 years.
While Levin also expressed grief over the situation, she remained grateful for the experience of having a job she loved in a place she loved for the past five years.
"It's the coolest thing I've ever done. I was able to organize a space however I wanted and people liked it, "she said with a laugh. "In the end, I'm grateful that I was able to keep it working for as long as I did."
[ad_2]