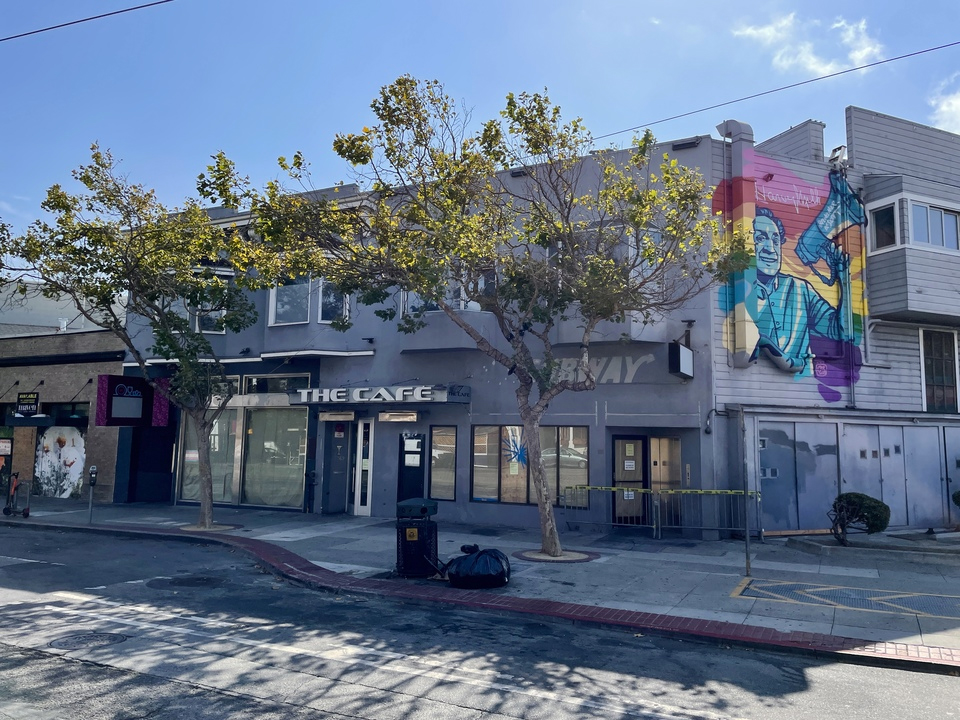 Here's a quick look at recent changes to businesses in the Castro area. In this edition: a Castro nightclub seems closer to reopening, a new hair removal salon has been offered, an unnamed cafe fills a long-vacant space, and another cafe opens while one remains temporarily closed.
The Café (2369, rue Market)
It looks like Castro The Café nightclub is getting closer to reopening after being closed throughout the pandemic.
As Hoodline previously reported in July, the nightclub announced its reopening but did not provide a specific date.
The Café has announced a reopening in mid-September. | Photo: Steven Bracco / Hoodline
Now, with his most recent post on Facebook and Instagram, the Café owner confirms that it will reopen this month.
"The Cafe is now working to open as soon as possible," the Cafe wrote in a statement. "The health and safety of all our customers and our staff [are] essential for the Covid pandemic to continue to evolve, our opening date as well. "
"At the moment, we are looking for an opening in mid-September," added The Café. The post also said they are currently hiring. Anyone interested should send an email to [email protected].
Hoodline has contacted The Café for comment but has not received a response.
For now, The Café has not announced any specific event or reopening date. But Hoodline has learned that longtime LGBTQ party promoter Gus Bean will be hosting a Castro Street Fair after-party at the Café on Sunday, October 3.
Bean's 'Sweet Tea' Sunday Tea Dance will take place from 5:00 p.m. to 11:00 p.m. Tickets are currently available.
"Gus Presents welcomes you to The Incredible Café with a large-scale monthly tea dance like Castro Sunday Funday has never seen," Bean wrote. Capacity is limited and proof of vaccination will be required to enter.
The Café temporarily closed in 2019 as it underwent a renovation. At that time, public records indicated that building permits had been filed to change the interior layout of the space on the second floor, and to move and combine the toilets into a unisex toilet.
The two spaces on the ground floor below the Café remain vacant.
Informants previously told Hoodline that The Café's plans include taking over the old Bisou space (2367 Market St.), which has been vacant since 2018, but the owners declined to comment.
Public records indicate that no new permits have been filed since its 2019 renovation.
Earlier this year, the ground floor tenant, Subway Sandwiches, closed for good.
European Wax Center (2241, rue Market)
A new European Wax Center hair removal salon has been proposed to take over the old Fidelity National Title at 2241 Market St. (between Noe and Sanchez streets).
Fidelity National Title quietly closed last month. Hoodline has contacted Fidelity National Title for comment, but has not received a response.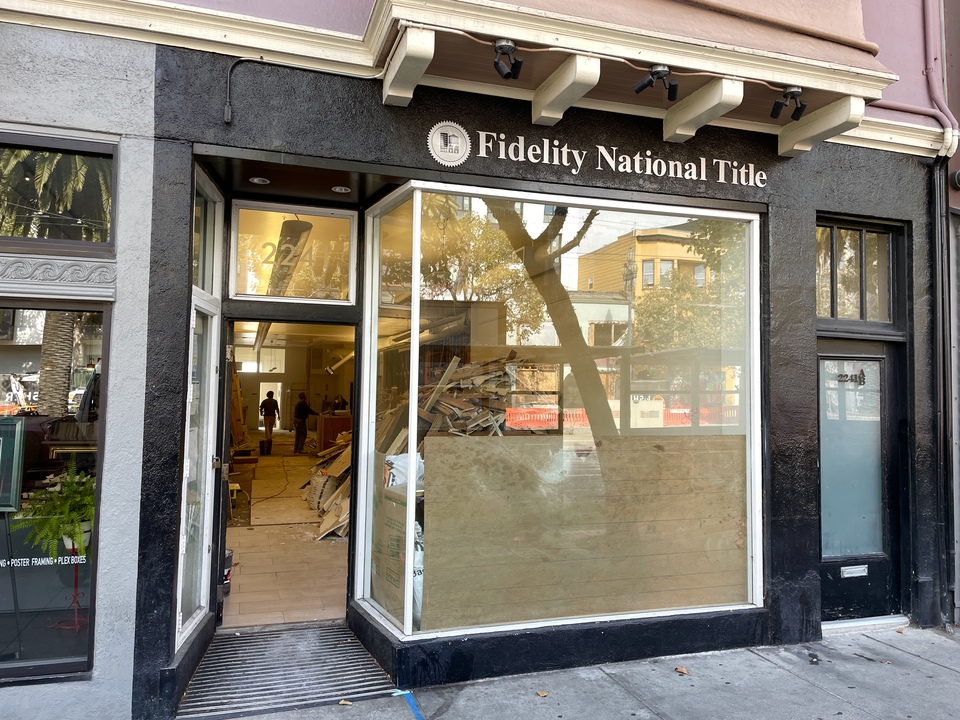 European Wax Center offered to open at 2241 Market St. | Photo: Steven Bracco / Hoodline
Based in Plano, Texas European Wax Center is a hair removal salon with more than 800 locations across the country. Under the city's Formula Retail rules, businesses with 11 or more locations must obtain a conditional use permit before opening.
For the moment, the European Wax Center has not been scheduled for a hearing with the Planning Commission.
European Wax Center currently has a location in San Francisco at 2675 Geary Blvd (at Masonic). A second location will soon be opening in Cow Hollow at 3030 Fillmore (in Union St.).
During a recent visit by a Hoodline reporter, construction workers were demolishing the space.
Unnamed Café (2175 Market Street)
It has been six years since Hoodline mapped the Castro's Coffee Cluster, and since that time, many coffee shops and cafes have followed one another.
Hoodline has learned that a new, unnamed cafe is heading towards 2175 Market St (in Sanchez St.).
A sign displayed in the window by Maven Real Estate indicates that the corner retail space has been filled.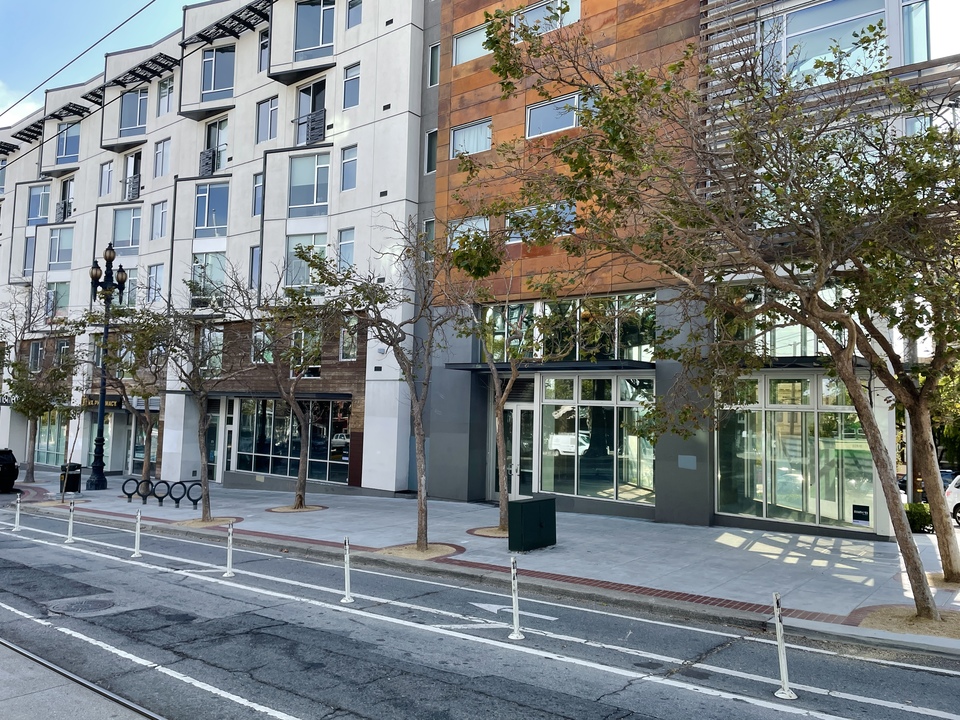 A café will fill the third and final window at 2175 Market St. | Photo: Steven Bracco / Hoodline
Residents of Castro will recall that the triangular-shaped space has remained empty since the opening of the six-story mixed-use apartment building at 2175 Market Street in 2015.
Maven's Santino DeRose told Hoodline that "a really interesting coffee concept" will be opening in space. When asked for further details, DeRose and Agent Catherine Meunier declined to comment or announce the name of the company.
Two other storefronts in the building are currently occupied by One Medical and Tin Pharmacy, both of which have taken over some of the space previously occupied by The Myriad.
Weaver's Coffee and Tea (2301 Market Street)
While a cafe is about to open in the Castro, another has left.
Weaver's Coffee & Tea has closed permanently at 2301 Market St. The cafe occupies the ground floor of the Fitness SF building.
Weaver's Coffee did not respond to Hoodline's multiple requests for comment.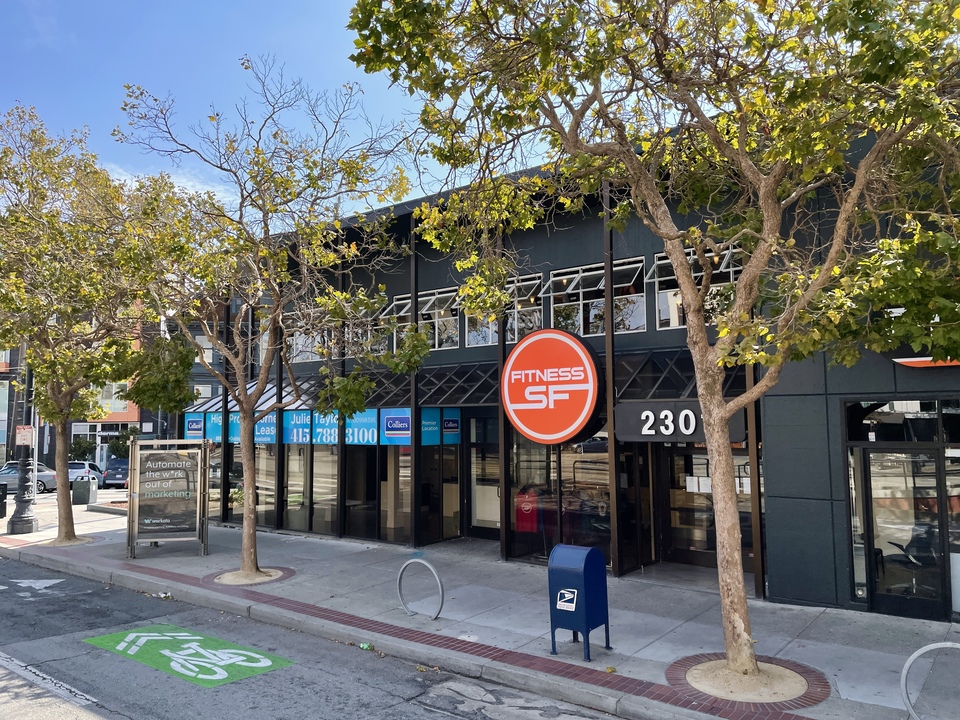 Weaver's Coffee has closed its doors permanently at 2301 Market St. | Photo: Steven Bracco / Hoodline
The future of Weaver's Coffee appeared in limbo after it was temporarily shut down in August 2020. Then, a year ago, a driver crashed through Weaver's window, damaging the storefront and the building.
Now that the repairs are complete and the building has received a fresh coat of paint, Hooodline can confirm that Weaver's actually left the Castro after it opened in 2014.
A new rental panel has been displayed in the window. An active listing for the space of approximately 885 square feet indicates that the monthly rental price is negotiable.
Alarm clock (18th street)
San Francisco-based Réveille Coffee's Castro location at 4076 18th St. was temporarily closed for two months as it undergoes repairs.
The reason for the closure has remained a mystery and little is known about the closure other than a sign posted on Réveille's door.
"Due to repair work done by the owner, we will be closed for a little while," the sign read. No reopening date has been announced.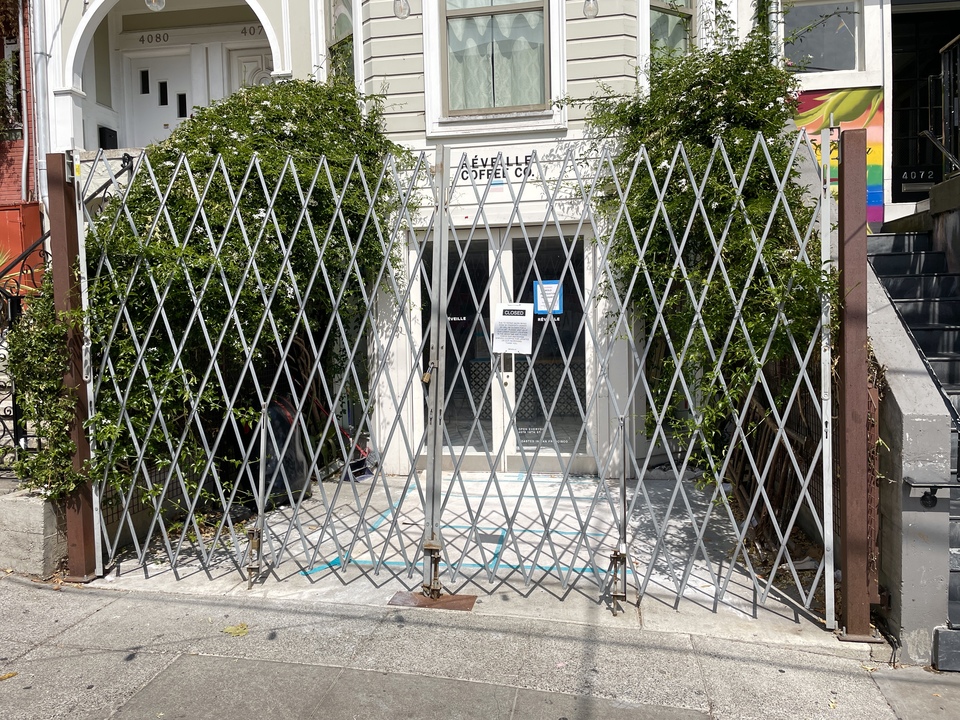 Café Réveille remains temporarily closed. | Photo: Steven Bracco / Hoodline
Réveille founders and brothers Christopher and Tommy Newbury did not respond to Hoodline's request for comment.
Public records say no permits have been filed, giving no insight into the closure.
Now, a new sign has been posted on the storefront, providing more clues about the closure.
"Mold decontamination in progress. Authorized personnel only, "the sign indicates. "Respirators and protective clothing are required in this area. "
Hoodline will keep you posted as we learn more about all of these stories.