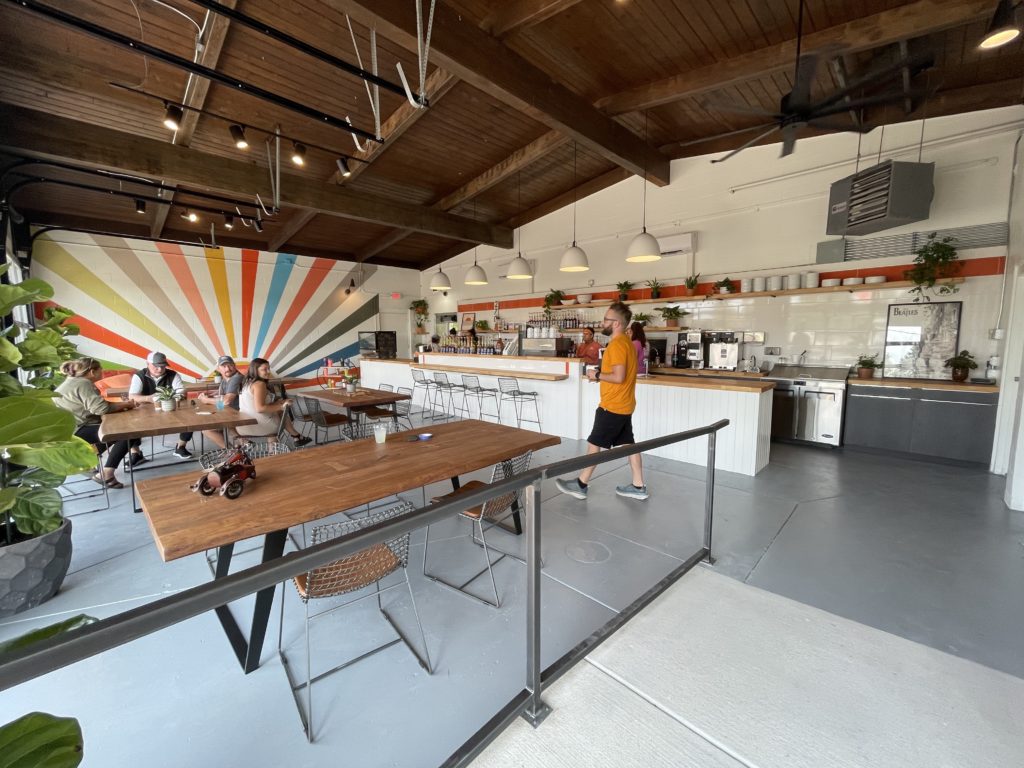 Nearly a year in the making, Orange Cup Java Station SideHustle is up and running in its new location at 2701 E. Main St. in Galesburg.
The new store, located in a former gas station building recently occupied by Galesburg Car Care, has been renovated and will offer a seated service option and feature a new expanded food menu. Like its location on North Henderson Street, the Orange Cup SideHustle will offer a drive-thru window.
Owners Melany and Scott Baldwin launched their new store on the corner of East Main Street and Soangetaha Road with a soft public opening on Thursday morning. A grand official opening ceremony will take place the first week of October.
The new Orange Cup SideHustle will be open the same hours as the North Henderson Street location – 6 a.m. to 6 p.m. Monday through Friday and 6 a.m. to 5 p.m. Saturday and Sunday.
| | |
| --- | --- |
| Opening of the new Orange Cup Java Station SideHustle on East Main | |
With three glass doors replacing the old garage doors of the old gas station, the new Orange Cup offers an open and bright environment with a modern decor theme.
Melany Baldwin told WGIL: "A person came up and said, 'This isn't Galesburg.' I was like 'No, this is the new Galesburg.' You hear so many people say you can't do this or get that in Galesburg. But I came to Galesburg and saw so many possibilities. We have so many great young people here, so I said, 'Let's give them something to talk about.' »
In addition to its extensive beverage menu, Baldwin is excited to offer more food options in the coming weeks. Orange Cup will continue to serve baked goods from Carriage House Bakery and will add products from Black Market Bagels. Baldwin also said LaToya Carson, owner of Galesburg-based Next To The Salt Catering & Co., has been hired to manage Orange Cup's expanded food menu.
Orange Cup almost doubles its workforce with a second site, going from 24 employees to 46.
Baldwin said: "We have a team that is quite unmatched, honestly."
The new Orange Cup venue will be able to offer opportunities to host live music, events and receptions.