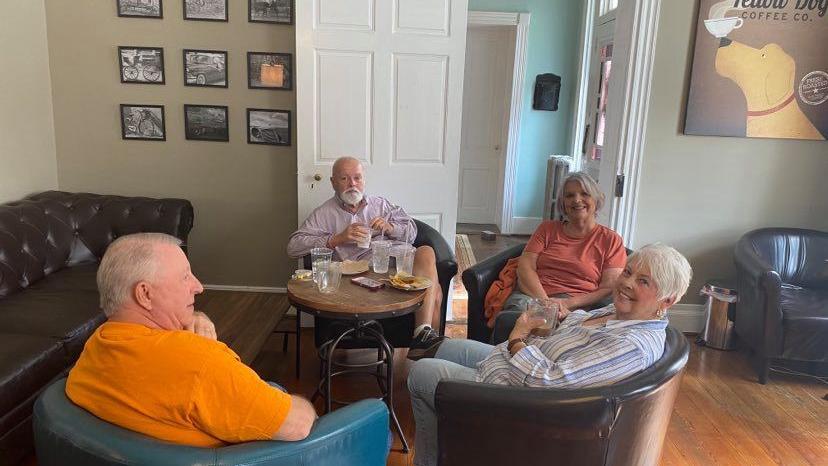 When you want to meet friends or just read a book with a nice cup of coffee, the cafe at Kyle House is the place to go. With several historic rooms, you can comfortably stretch out and admire the architecture, or sit by the window and people-watch on Main Street. I am often drawn into the surrounding conversations and laughter. It's a fun place to go.
Coffee at the Kyle is one of the last legal drug dealers in town according to Brian who runs the place. The owners are Randy and Stephanie Lord who bought it with the intention of making a cafe.
Brian and his wife owned a cafe in Florida. Out of friendship, they agreed to come aboard to help. Now 3 years later Coffee at the Kyle is booming and as the business rule says if you can do it 3 years you will probably be successful. Eventually, coffee tasting (tasting) will happen with proper marketing. Coffee importers go through a process to find the best blends to refine your palette and enhance your coffee experience.
It is definitely the perfect place for social media and to hang out. Especially on Saturdays where you can find a variety of townspeople as well as locals. Last time around I found Richard and Marty Beets sitting with Sonny and Gloria Culver. In the walks Chris Funk and the exchange of stories began. A heated conversation ensued with everyone. The atmosphere is relaxing and informal in a charming setting. Just a perfect way to start your day.
JoLynn Garland Quillen called it his happy place. Gene Cobb said he was their # 1 fan. Personally, I'm addicted to frozen chai latte and raspberry muffins. However, my favorite review was written by Amanda Elder Crawford who said, "Amanda's Carbohydrate Overload Today is brought to you by Coffee at the Kyle! I finally gave in to this sinful but delicious treat that tastes like baby angels singing lullabies while stroking baby lambs.
Mary Simmons said she really missed the morning coffee and socializing at Kyle and asked if the gentleman with the lovely yellow dog always stopped by after I posted a few photos on My Rogersville. They happened to be there that day. Shug is the yellow dog and Chuck is the gentleman according to Clouds Creek who also frequents this hot spot.
Lois Purkey said, "There really is a yellow dog. It's a ghost story about a settler's dog who is still looking for his family. He appears in the Phipps Bend area. The family wagon was attacked and killed. It was in response to the yellow dog painting on display. I have to ask Gloria Culver for more info on Kyle's naked lady, also a painting there.
Even the youngest adore the Kyle and consider it a treat. Plus, you never know what you might see, like a big creature with green and gold fur that, to Coffee at the Kyle, looks about right.
"We are a cafe in the historic district of Rogersville. Our coffees, espressos, smoothies, teas and frozen drinks are tailor-made for your enjoyment. Also salads, soups, quiches, frittatas, steel cut oatmeal and more. We only buy the highest quality food. All items are made from scratching from our own recipes. All baked goods are made with butter or coconut oil, never mixed with vegetable oil or shortening.
You deserve a well-crafted drink at this remarkable cafe. Open from 8 a.m. to 3 p.m. on Saturday and from 8 a.m. to 2 p.m. from Monday to Friday. Come and participate in this cafe experience with indoor and outdoor seating. 111W. Main Street Rogersville TN 37857 [email protected] http; // www.coffeeatthekyle.com/ (423) 500-1150
Breakfasts and lunches every day. Amazing drinks all the time. Remember you can order online. Pumpkin spice is back! Try the Pumpkin White Chocolate Latte. Pumpkin syrup is homemade with real pumpkin. Get them while they last. We'll see each other there.