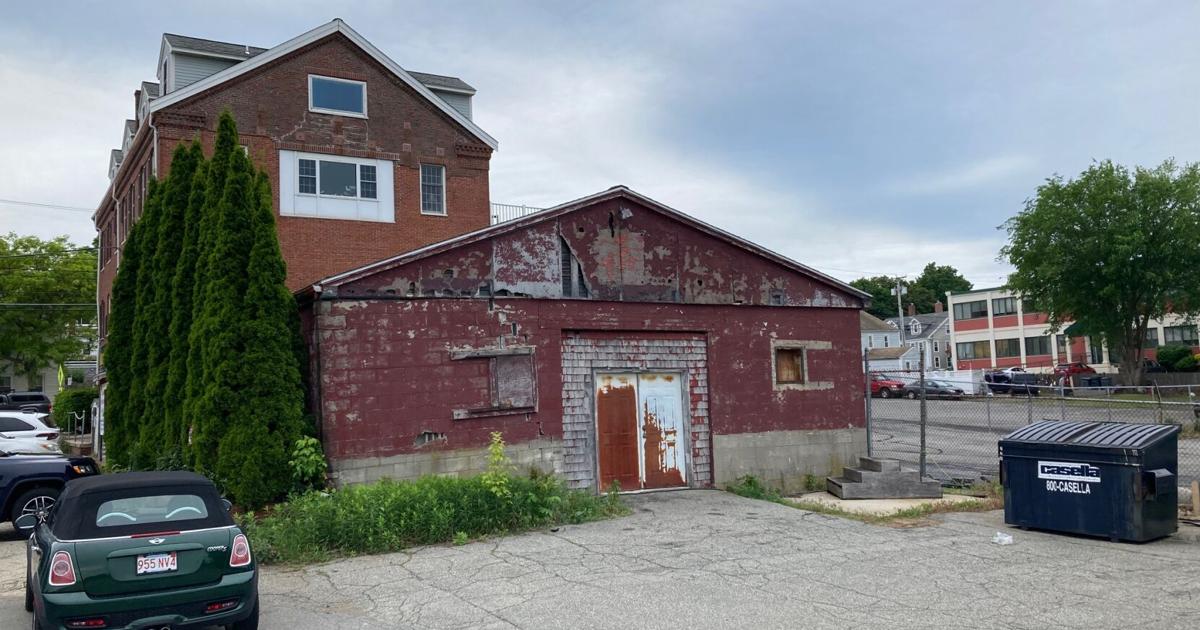 NEWBURYPORT — The city's newest cafe may soon open on Merrimac Street next to Leary's Fine Wine & Spirits, but only if city officials approve a zoning change, Zoning Appeal Board filings show.
The proposal to open a cafe there is met with stiff resistance from neighbors who fear that adding another food business in a high-volume area will exacerbate traffic and parking issues. The proposal also has many advocates, including many nearby business owners and residents.
According to city records, many letters of support refer to the business as GroundSwell Coffee.
GroundSwell Coffee already has a location on Broadway next to Salisbury Beach.
Lawyers for Waldot Reality are asking the city's ZBA to add the phrase "fast food" to the approved list of uses for space near 200-208 Merrimac St. The request is for a structure that could be built at next to Leary's Fine Wine. This property was last rezoned in 2011 to allow Otto's Pizza to open a location inside the hugely popular liquor store.
The council last met on the proposal on May 24 and is scheduled to meet again on June 28, according to the city's website.
As part of its proposal, Waldot Realty would remove and rebuild 852 square feet of a single-story structure at the rear of the property and add 800 square feet. The renovated and new area would have a "warehouse" look and feature an outdoor patio with tables and chairs. It would also have direct access to nearby Cashman Park, according to city documents.
No new parking spaces would be provided, with the argument that the site already has enough to support another business under city regulations. Lawyers also argue that since the cafe is open from 6 a.m. to 4 p.m., it avoids the busiest times for the liquor store and pizzeria.
"In addition, it is anticipated that some of the cafe patrons will enter on foot from the park and rail trail," the app reads, referring to the Clipper City Rail Trail.
But nearby Emily Dunn said she was unconvinced by the arguments and argues that an already hectic and dangerous walking area will become all the more dangerous. She also said she doubted there was enough parking.
"We just want a safe neighborhood," Dunn said.
City Council President Heather Shand, who represents residents who live near Leary, said the area is a known traffic safety hotspot.
"As you may or may not know, the intersection of Merrimac Street and Kent Street is an area of ​​heightened safety concerns for pedestrians and motorists, making it one of the "streets projects complete "from the city," Shand wrote in a letter to the ZBA.
Shand also wrote that in 2015 the city engineer was considering making improvements to the area.
"But due to funding constraints, there has been little movement to put in place the updates and configuration needed for safe passage," Shand wrote, adding that the area is currently being reviewed by the sub. – traffic and safety committee of the city council.
Dunn also said she was very concerned that the rezoning to allow fast food would eventually open the door for a McDonald's or other national chain to open a location there if GroundSwell Coffee goes bankrupt or decides to move on.
"There are so many flaws in the plan," Dunn said.
According to city records, many residents agree with her and have written letters asking the ZBA to refuse the zoning change.
"I walk my dog ​​in Cashman Park every day and can tell you that the intersection of Kent Street and Merrimac is extremely dangerous in its current state," Buck Street resident Gerry Montgomery wrote in his letter. foot traffic will be a mistake and I hope you consider my comments when evaluating your decision.
On the other hand, the proposal garnered a lot of support, especially from the owners of Port Paint 'N Paper and The Modern Butcher. State Representative James Kelcourse, R-Amesbury, wrote a letter signifying his support for the proposed cafe.
"I believe the addition of a cafe would be consistent with uses in the area and would be a good amenity for all community members as well as visitors," Kelcourse wrote in its March 22 letter.
The GroundSwell Surf Café in Salisbury is owned by Heather Fritz, but the property, 25 Broadway, is owned by Salisbury Beach Realty. According to Salisbury Archives, Salisbury Beach Realty is owned by area real estate magnate Wayne Capolupo. Waldot Reality is run by parent Phillip J. Capolupo, according to city records.
Many of those supporting the cafe appear to have signed a form letter, which Dunn noted, which said it was obvious to her and others that a campaign coordinated by the plaintiff was underway.
"There seems to be a political agenda in terms of greed rather than security," Dunn said.