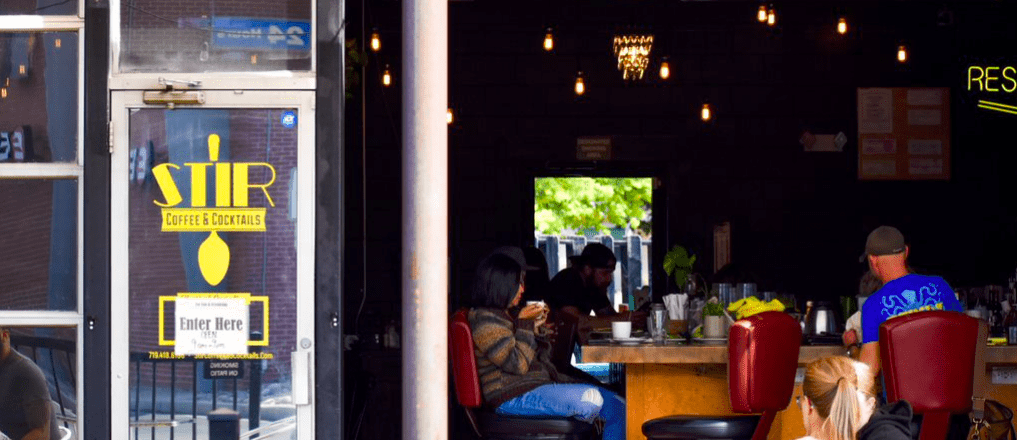 Luci Schwarz
Stir Coffee & Cocktails is a welcoming and cheerful neighborhood cafe and cocktail bar located approximately seven minutes from the UCCS campus.
The restaurant opened in 2017, under the management of Amber Stull and Joe Campana. Their goal was to create a space where people feel safe to enter alone or with friends. Here they could have quality coffee or cocktails, while having a bite to eat and having good, meaningful conversations.
Success came quickly, and Stir attracts many local residents and university students to work or relax with a book in the bustling space.
The cafe and cocktail bar have aesthetic decor, including books beautifully displayed on shelves, retro mini-televisions, and an array of blossoming green plants. Stull chose not to have a television in the restaurant in order to encourage conversation and human interaction.
Stull believes that giving someone a great experience is of the utmost importance. "You can change a person's entire week just by being kind," she said.
Stir's target market is everyone, including UCCS students looking for a comfortable and friendly place to work, eat, and / or hang out with friends.
The carefully crafted menu is heavily inspired by literature, so all cocktails follow a literary theme.
Stull addressed the reasoning behind names like "The Lion, the Witch, and the Vodka," which consists of Lee Spirits Vodka, Lavender, and Lemonade ($ 8). "I'm a pretty avid reader, so the vibe of the library and the names of the cocktails came from it," she said.
Stull said his favorite drink on the menu is "The Dude," a cold brew drizzled with hand-whipped Licor 43 whipped cream ($ 9). Stull cited rotating soups ($ 4 / $ 7) and frittatas ($ 9) as his favorite dishes.
The food and drink menu typically changes about twice a year, but a few customer favorites always remain on the list. When changing the menu, all staff come up with ideas for dishes, coffees and cocktails.
Menu changes are just one example of how Stir staff work cooperatively, from the front to the back of the house.
"We all care about each other and understand that the reason things work here is that everyone is important. We all need to make this place work. I learned from my business partner, Joe Campana, that you should never ask your staff to do something that you wouldn't do yourself and I think that's why everyone is happy here, "a Stull said.
Stull remembers the day Stir first opened her doors, her friend and former boss Campana grabbed her hand and led her to the end of the parking lot. From there, they could see their new business, illuminated and full of people. She remembers Campana telling her, "Look, you did that. Stull had been in the industry since he was 15 and Stir was his first business.
She said she considers herself incredibly lucky to have worked and currently working with some of the best people in the service industry, and to meet all of the dogs on Stir's patio.
Stir Coffee & Cocktails is open onsite and take out seven days a week from 9 a.m. to 9 p.m. and is located on North Wahsatch Avenue in the Bon Mall.
Those with dogs are welcome to bring them to relax on the patio. Suzie's marrow treats and CBD treats are also available for purchase for dogs.
According to Stull, the bar is looking to hire a cook. For more information, interested applicants can call 719-418-6188 or email [email protected]