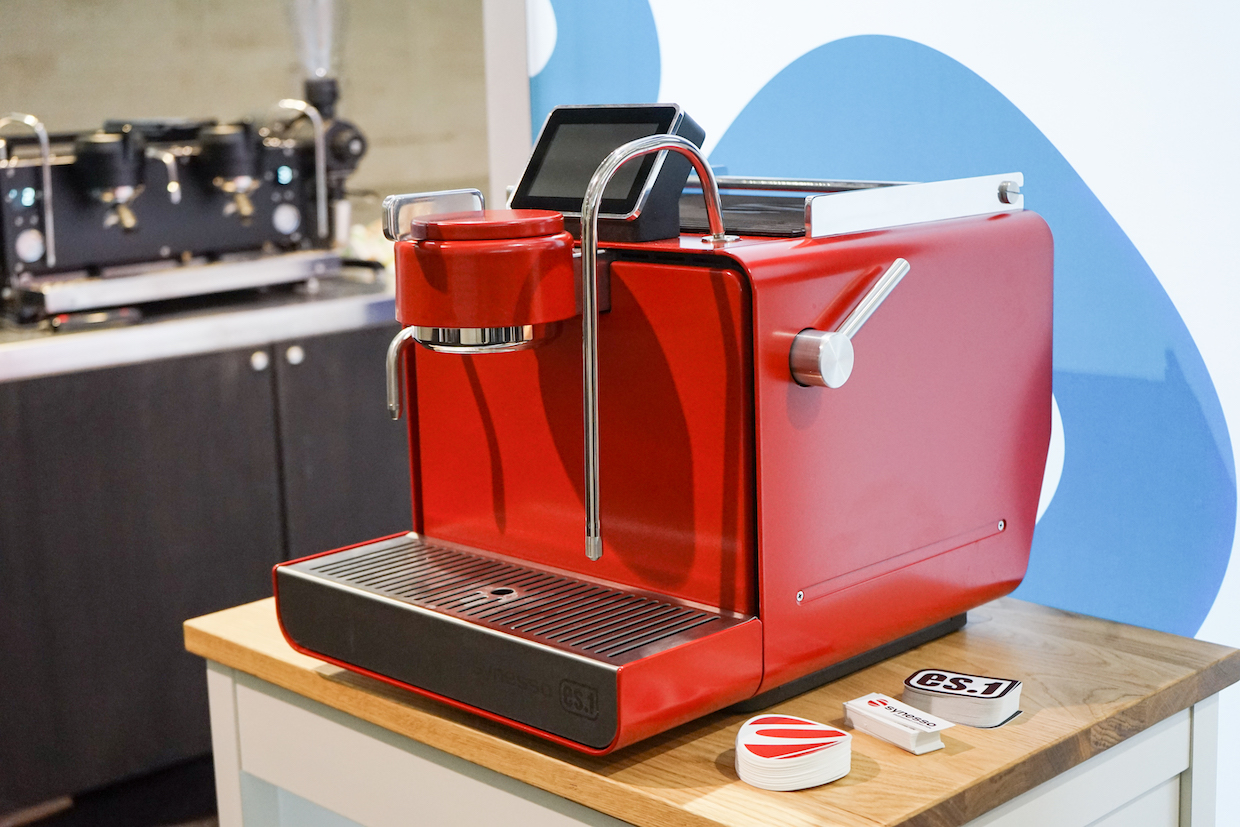 Seattle-based espresso machine maker Synesso today unveiled a single-group prosumer machine called the Synesso ES1.
The first major release since Seattle-based Synesso was acquired by Illinois-based catering equipment company Middleby Corporation in 2019, the machine made its public debut at Boston's Specialty Coffee Expo.
(See DCN's full coverage of Expo 2022 here.)
The dual-boiler ES1 operates on standard residential 110V/15 amp power and incorporates the company's patented MVP (Manual or Volumetric Programming) technology, which allows users to choose between manual volume and temperature control. real-time pressure or automate the dispensing of water to the café using the integrated software.
"It's a Synesso through and through, with professional performance, pro-spec components and smart engineering to achieve Synesso's legendary temperature stability on residential power," said Matt Jensen, brand manager. and marketing of the Middleby Coffee Solutions group, at DCN. "The unit offers the best of what Synesso is known for, in a clean-lined design that blends seamlessly into homes."
The machine, named after Synesso's first engineer, Eric Schaefer, will include a new feature that Synesso calls Automatic Preinfusion, whereby data gathered from pressure sensors in the brew chamber can trigger automatic changes to the debit.
Sensors guide the machine through recipes that the system divides into three phases: pre-infusion, infusion and deceleration. Baristas can pre-define parameters for each phase of a shot, either by specific pressure levels and durations, or as overall percentages of a final target volume.
Settings are adjustable via a top-mounted digital touchscreen interface, while firing activation is done manually using the paddle switch on the cluster.
---
Related reading
---
Users can also designate a pre-infusion pressure, peak pressure, and deceleration rate, then trigger these phases manually using the group's paddle switch. The system also saves these shots for possible automatic replay.
"You have the ability to be about as automatic as you would like, but at the same time we still have the paddle commitment to [activating an espresso]; the steam valve is still a manual steam valve," Ryan Willbur, director of sales and strategy for Middleby Coffee Solutions Group, told DCN. "We wanted it to be a very tactile machine – something that feels like making great coffee at home. And on the other side of that, for roasters who want to do events and pop-ups, we wanted it to be something that was super familiar and felt as rugged as a commercial machine for them in those light environments.
Water from the separate hot water tap is also programmable. Initially, the ES1 will allow a single temperature/volume profile to be run by a single button; future software updates will allow the system to store multiple water profiles, as well as additional functionality to control espresso extractions.
"We see the operating system on this machine as the future we want to build on," Wilbur said. "The advantage of [the system] is that a lot of the framework that determines how we handle pressure and control extraction is something we may be building different algorithms for over time, to develop new ways to automate or manipulate extraction . "
The ES1 is Synesso's first new machine model since the launch of the S line of compact commercial volumetric espresso machines in 2018.
The 80-pound prosumer machine's 3.25-litre pint steamer and infusion boilers, both stainless steel, can be replenished via a direct water line connection or from a a 3-litre on-board tank accessible from the front of the machine. The steam wands stay cool to the touch, and at launch the machine will be available in blue, red, black, or white.
A working demonstration ES1 machine is currently shooting photos at the SCA exhibition. Pricing will be announced before the sales launch, which is expected to take place in early summer.
---
Does your coffee business have news to share? Inform the DCN editors here.
howard bryman
Howard Bryman is associate editor of Roast Magazine's Daily Coffee News. He is based in Portland, Oregon.