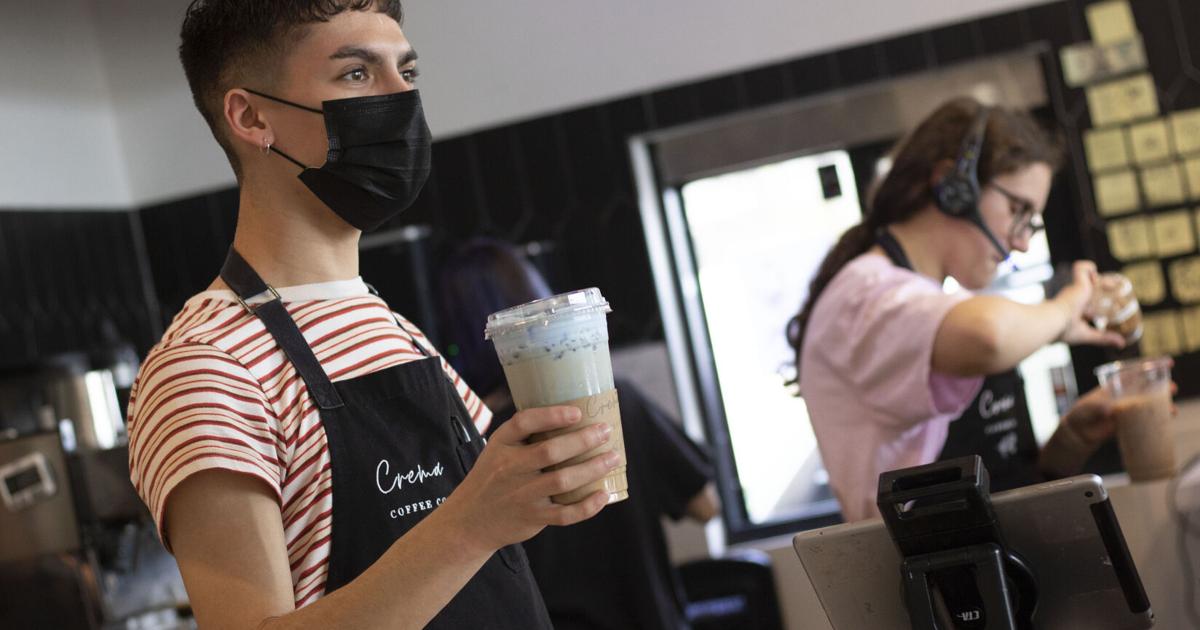 Tyler Crema Coffee Co. found a way to give back to the Ukrainian community by creating a special coffee drink.
On March 7, the blue and yellow drink depicting the colors of the Ukrainian flag was promoted on the cafe's social media platforms and caught the attention of many residents.
Thanks to Crema manager Justin Rives and owners Michaela Ta and Eric Ta, the "Sunflower" drink was born and now serves as a way for the people of Tyler to show their support for Ukraine.
Fifty percent of the drink's proceeds go to Save the Children's Ukraine Emergency Relief Fund and the owners also match every donation.
"They kind of do something cool and hip (drink) into something that raises awareness, which I think is very good for them to do," said Tyler resident Lisa Everett, who bought the Sunflower Monday drink.
With a combination of her favorite flavors, Rives created the Dulce de Leche Caramel Nut Latte topped with a cookie butter cold mousse. The name represents the national flower of the country.
After making the drink, Rives said he pitched the idea to Michaela Ta with the goal of finding a way to help children, especially with his personal experience of becoming a father.
"I just had a daughter and I put myself in the shoes of those parents who were evacuating and leaving everything they had. I feel extremely blessed to live where we live and to be able to give my daughter a place safe place to live," Rives said. "I was thinking of ways to help and I know Michaela is very generous, so I offered her that drink and she took it and ran off with flying colors.
He also mentioned that he had Ukrainian ancestors, which made him want to help even more.
"I have ancestry that comes from Ukraine and Russia, so I felt the internal tides to do something to help them," he said. "Knowing that my blood comes from this area is a bit heartbreaking to see these people fleeing their homes."
So far over $2,000 has been raised since last week and the promotion continues this week.
"We earned $1,070 from the drink last week, so the total donation (with the game) this week is $2,140," Rives said.
Rives said the cafe would make another donation next Monday, but also said he would manage it as long as Ukraine needed help.
With gratitude, Rives would like to thank the members of the community who purchased one of the special lattes. He is also encouraging local residents who may not like coffee to go online and donate to Save the Children at support.savethechildren.org .
"There are also Russians who are normal citizens who are also suffering, they have children. Even if you don't want to donate to our funds, Save the Children travels to several countries around the world. If they don't want to drink coffee or if they want to help, they can go to them," he said.
Crema is located at 2251 Three Lakes Parkway Suite 107 in Tyler.